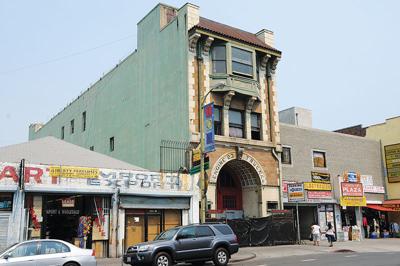 📰 Background Reading / Articles
From an Oct. 22, 2022 Medium post you can read HERE:
"After such a prolonged period since the last LVNOC meeting, Leslie Thomas from the Department of Cultural Affairs (DCA) finally concluded that the original plan for Firehouse #23 was no longer relevant and urged his colleagues to re-think things."
From a Dec. 5, 2018 Downtown News article you can read HERE:
"The project is funded through Proposition K, which was approved by Los Angeles voters in 1996 to fund the acquisition, improvement, construction and maintenance of city parks, recreation facilities and other youth-oriented spaces. The measure earmarked money for 183 projects, including Firehouse No. 23's transition into a youth arts center."
From a June 30, 2022 Ghostbusters News article you can read HERE:
"YouTuber and Ghostbusters fan Ghost Beacon recently lucked out, having the golden opportunity of catching a rare glimpse inside Engine Co. 23, which, as it turns out, is currently going through heavy renovations, with plans to turn it into a youth art center."
🏗️ Architectural Renderings
The architecture firm Brooks + Scarpa was chosen to do the design. See photos HERE. Their full presentation made at the 2nd LVNOC meeting is HERE.
🕫 The Local Volunteer Neighborhood Oversight Committee
The last Local Volunteer Neighborhood Oversight Committee or "LVNOC" meeting about Engine Co. 23 was held on Nov. 28, 2018 at the James Wood Community Center. Agenda HERE. Curiously, there are no Minutes posted to the Bureau of Engineering website of that meeting.
This was an extremely contentious meeting with several community members insisting the Engine Co. be available for all ages and City representatives insisting it should be for youth only. There were official votes taken by the Board, requests made of City representatives and assurances that another LVNOC meeting would be scheduled in the next couple of months (this did not happen). There was also an audio recording of this meeting made by City staff. A *DRAFT* transcript has been released through the below Public Records Request (some edits are in order). Read the transcript HERE. Video was also taken of the meeting by Bobby Buck – see links below. ⬇️
https://adilo.bigcommand.com/watch/iuxwoNYU
https://adilo.bigcommand.com/watch/tfofXZAh
🗳️ Prop. K Is A Ballot Initiative Passed By Los Angeles Voters In November 1996
Per the Prop. K language (pg. 3, Sec. 7):
"SECTION 7. Any park or facility acquired, developed, rehabilitated or restored with funds derived under this Ordinance shall be open and accessible to the public without discrimination as to race, color, sex, sexual orientation, age, religious belief, national origin, marital status, physical or medical handicap or medical condition." [Emphasis added]
📁 Public Records Requests
Two Public Records Requests have been made regarding this project (by Katherine M.). The first is for those meeting Minutes (and recent Regional Volunteer Oversight Committee meeting Agendas and Minutes). It was submitted Jan 23, 2022. See below.
***UPDATE*** As of 3/2/2022, the City has released the *draft* transcript of the 11/28/2018 LVNOC meeting, Oct. 2021 RVNOC meeting Agendas and related attachments. Still missing are the requested Minutes from both the LVNOC and RVNOC meetings.
The RVNOC documents are HERE – there is information about Engine Co. 23 in them – specifically in the one labeled "Final Central RVNOC Packet". This information includes $$$ allocated to the project – although it is opaque, internally confusing and ridiculously challenging to navigate. It's unclear if CD14 had representatives at these Fall 2021 RVNOC meetings. There are many projects listed for all ages.
The second is for detailed budgetary information. It was made on Feb. 5, 2022. See below.
***UPDATE*** As of 3/3/2022, the City has responded that they require a fourteen day time extension. As of 4/6/2022, the City has responded that the PM who is the custodian of the requested information had a virus on his computer, which stores some of these files, and that they would provide the documents as soon as possible. On 4/28/2022, the City released one document pertaining to this request which can be accessed HERE. There are still several components to the request that have not been answered yet, such as a breakdown of additional and non-Prop. K funding sources which were mentioned at the Nov. 2018 LVNOC meeting linked to above. Developing…
🦴 Skeletons In The Closet (More Background)
Did you know Engine Co. 23 once had a "caretaker" living there for 20 years? From a Sept. 4, 2009, Downtown News article HERE.
"Manning retired around the same time the scandal was uncovered, but the site has continued to host film production, said Daniel Taylor, the site's caretaker for the past 20 years. He is currently challenging an eviction by the city."
🔓 History of Community Access
Pre-2010, Engine Co. 23 (referred to locally as "Firehouse #23") hosted community events regularly. Caretaker Daniel Taylor facilitated these events through an organization he created called, "Corporation for History, Art and Culture" (see/download PowerPoint below). This subsection showcases a collection of documents and photos that present how the space used to be utilized and how the people of Skid Row wish for it to be utilized again.